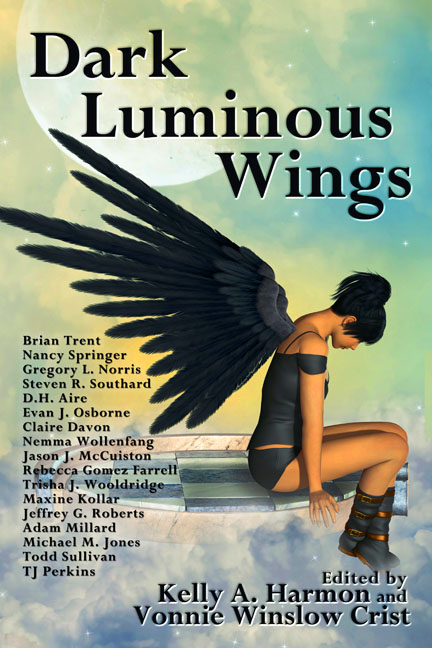 About the Book
Currently on Pre-Order for $2.99 at Amazon and Kobo. Price jumps to $4.99 after October 20.
From Icarus to Da Vinci to tomorrow's astronauts, humans have dreamt of flight. Feathered wings. Mechanical wings. Leathery wings. Steel wings. Stories of winged creatures set in graveyards and churches, bustling cities, fantastical worlds, alternate histories, and outer space reveal the shifting nature of Dark Luminous Wings.
Take flight with 17 science fiction, dark fantasy, and horror-filled tales from an international roster of authors.
Featuring fiction from Brian Trent, Nancy Springer, Gregory L. Norris, Nemma Wollenfang, D.H. Aire, Trisha J. Wooldridge, Steven R. Southard, Rebecca Gomez Farrell, Todd Sullivan, Claire Davon, Michael M. Jones, Mazine Kollar, Jason J. McCuiston, TJ Perkins, Adam Millard, Jeffrey G. Roberts, and Evan J. Osborne.
Dark Luminous Wings will set your imagination soaring–but watch out for sharp beaks, piercing talons, and gravity.
Disclosure of Material Connection: Some of the links in the page above are "affiliate links." This means if you click on the link and purchase the item, I will receive an affiliate commission. I am disclosing this in accordance with the Federal Trade Commission's
16 CFR, Part 255
: "Guides Concerning the Use of Endorsements and Testimonials in Advertising."