Welcome to Pole to Pole Publishing, a small-press publisher of science fiction, fantasy and horror.
Now Available!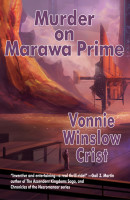 Murder on Marawas Prime
by Vonnie Winslow Crist
Murder, romance, and flawed science experiments make for a life and death race across Marawa Prime. Two people end up dead by the end of the journey. But just who are the assassins and who are the victims?